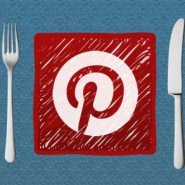 Pinterest is still a relatively new player in the social game, but it has amassed a sizeable following very quickly, with no sign of slowdown.
What is Pinerest? It's basically an image sharing website, where users "pin" images, and share them with their friends.
You know the saying, "a picture is worth a thousand words"? That's why Pinterest is huge! People love looking at pictures, and yes, pretty pictures of your restaurant's dished, among other things, are great for pinning on Pinterest.
Let's have a look at how restaurant owners can benefit from using Pinterest.
Infographic on how restaurants can use Pinterest
Instawares.com created an awesome infographic on exactly what you, as a restaurant owner/manager, need to know about Pinterest, and how you should use it.
The most important take-aways from the infographic are:
There were 18 million Pinterest users in May, 2012, 87% women
Pinterest drives more referral traffic than any other social network
Using Pinterest

Pin great photos of your establishment, happy guests, food, etc.
Create recipe pins for 42% higher clicks
Add prices to maybe get featured in Pinterest's gift section
You should pin YouTube videos as well
Comment and like other peoples pins
Add a Pin It button to your website's food pages

Pin your pictures in the early afternoon, or after 8pm
Here is the infographic, click it to enlarge:

Share your pins on Facebook and Twitter
If you are active on Pinterest, you'll probably already have a Facebook and Twitter profile for your restaurant.
Make sure you share your pins on these social networks as well, which will get more exposure for your pins, and lead to a larger following on Pinterest, with more people sharing your pictures and recipes.
You can also automatically share your Pinterest pins on your Facebook account, by simply going to your Pinterest profile settings page,  connecting your Pinterest account with your Facebook account, and enabling auto posting.
The limitation of Pinterest
Pinterest is a great social network to get involved with, it's free, gaining popularity, and great for restaurants if you can pin nice images.
However, due to the fact that restaurants are local, and Pinterest is still relatively small, chances are that you won't find that many people and followers from your restaurant's neighborhood.
This may change with time, but for the moment, this is why it's very important to share your pins on your establishment's Facebook profile. Chances are that your Facebook following will be more local, and they can add the extra boost your Pinterest efforts require.
Online Marketing Guide for Restaurants & Bars