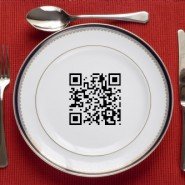 QR codes have become more and more popular with the mobile internet revolution and growth of the smartphone market, which makes the use of QR codes by restaurants more and more important as well.
Basically, a QR code is an image that anyone can scan with a smartphone equipped with a camera and a QR code scanner program. Once the QR code is scanned, the smartphone will interpret the "code", and carry out the function requested by the QR code.
There are many functions you can get done on the user's mobile device with a QR code:
display text
goto a URL (endless possibilities, for example your site, a Facebook page, Facebook like a page,  a Google Maps location, a FourSquare profile, etc.)
place a call
send SMS
record contact detail(vCard)
record event detail(vCalendar)
Wifi login (Android only)
send email
create PayPal buy now button
Most QR codes are links to given website URLs. As can be expected, the content on these URLs have to be mobile optimized, since they will be viewed on mobile devices 95% of the time.
Where can restaurants use QR codes?
Basically everywhere you are. It is smart marketing to have the link related to a given QR code be a factor of where the QR code can be found. Here are some example:
| | |
| --- | --- |
| QR code location | QR code action |
| Front door of restaurant | Link to review site with good reviews |
| Ad in newspaper | Link to relevant page on your website or place call for reservation |
| Billboard | Link to Google Map with directions |
| Take-away or home delivery flyer | Link to your online ordering menu card (mobile version), or place call to your restaurant |
| Receipt | Link to review site (to get the visitor to leave a review) |
| Menu card | Record your contact details in user's phone |
As you can see, knowing where your QR code exists is very important in coming up with what you want it to do. It is just like a traditional call to action actually, in a more modern, techy format.
How can restaurant's generate QR codes?
There are a number of free QR code generators which you can use to easily create QR codes of your own. Here are a couple
Tracking the use of your QR codes
Tracking how your QR codes are used is a very good idea. It'll give you feedback on the effectiveness of your marketing efforts, so you can make informed decisions on what to change in the future.
There are a couple of internet service providers that allow you to track the use of your QR codes, for example http://www.smartytags.com/create-a-code
If you'd rather track them yourself, the simplest way is to use a URL shortening service which provides statistics, such as https://bitly.com/
Direct your bit.ly link to wherever you want the visitor to go
Program your QR code to go to the bit.ly link above
Your visitor will scan the GQ code, which redirects to the bit.ly link where the hit is recorder, and the visitor will seamlessly be redirected to the final destination.
Using QR codes is a nice touch in modernizing your marketing efforts.
One final tip: after you create the QR code, but before you actually publish it anywhere, make sure you scan them yourself, to be certain the code actually does what it's supposed to.
Online Marketing Guide for Restaurants & Bars