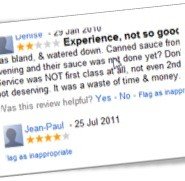 Getting reviews on social review sites for your restaurant is important for a number of reasons:
Local SEO
Creating awareness and trust in review readers due to social proof
Learning how your visitors truly see your establishment
Sites like Yelp, Google Local and Citysearch play a huge role in the f&b business nowadays. Having good reviews on these sites is very important for any restaurant, bar, café, pub, etc. nowadays.
The first step in getting reviews
If you are new to the review scene, you first of all need to create profiles for your establishment.
Once you do that, you need to get the ball rolling. Ask your friends and family to write some reviews on your restaurant. Make sure they are not all 5 star, since that's not believable.
Asking for such reviews would be seen as "unethical" by some, but I just call it common sense marketing. Nothing happens by itself, you need to have some reviews to start getting reviews. If you are overly concerned with the ethics side, you can ask your friends/family to delete their original reviews once you start getting real ones.
Getting more reviews
Once you've got the above out of the way, it's time to get your visitors to start leaving reviews.
Providing a great service and great food is the basis of getting a good review. This is your top priority as a restaurateur and business person.
Invite local food bloggers for lunch/dinner, and ask them to leave a review.
Specifically ask your restaurant visitors to visit your profile on whichever review site you want to concentrate on, and leave a review.
Include a QR code on your receipt, which leads to a review page, where your customer can leave a review.
Conclude your newsletter with asking for a review from the reader.
Not all of your reviews will be positive, which is absolutely normal and natural. just make sure you learn how to handle the negative reviews as well.
Online Marketing Guide for Restaurants & Bars