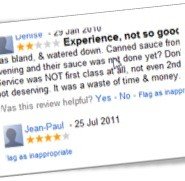 Once you create your restaurant's/bar's/café's  profile on social review sites, such as Yelp, Google Places, and all the other restaurant directories, you will start getting reviews from your guests.
More and more people are relying on public reviews to make decisions, especially when it comes to where to eat, so keeping an eye on them is important, and should actually be part of your public relations strategy.
The reviews you get on sites such as Yelp, Google Places, etc., are important for your future visitors, and yourself as the owner/manager:
Get an added layer of feedback
Help identify your establishment's shortcomings
Chance to interact with your guests
Many restaurant owners don't check their reviews at all, which is a HUGE mistake! You have to be aware of what the buzz is around your place, so you can take appropriate action.
How to find reviews about your place?
Bookmark your profile on the most important review sites, and check them at least every other day. This includes, but isn't limited to:
- Google Places
- Yelp
- Tripadvisor
- Zagat
- Urbanspoon
- Citysearch
Set up an alert for your establishment's name in Google Alerts. It's simple and quick, and you'll get a letter from Google whenever it finds a new page on the Internet, that includes the name of your establishment.
Do a Google search for "YOUR RESTAURANT'S NAME review". You might be surprised at what results you find.
Handling negative reviews
Knowing how to handle negative reviews is very important as well, and is actually a 2 part process.
Firstly, you have to investigate whether the review was legitimate, and take appropriate action with your staff, chef, or whatever the problem was. It might even turn out that there wasn't a real problem.
Secondly, regardless of whether the writer of the review was right, or just having a bad day, you have to thank them for their insight, offer your apologies, tell them that you've taken appropriate action, and maybe offer some kind of gift as compensation. Be polite and genuine to their reviewer, never be rude or condescending. Keep the message simple and always end on a positive note, reiterating your appreciation for the review.
This is important for a number of reasons:
You'll actually turn a visitor with a negative experience into a positive one, so they won't go around spreading negative things.
Other people reading the review see that your establishment is in good hands and under attentive management.
Your response demonstrates that you care, and that you're responsive to feedback and criticism.
In conclusion, know that the only truly negative review is one that is not acted upon.
You won't get purely 5 star reviews, but that's OK. All you have to do is find and deal with the negative reviews properly.
Online Marketing Guide for Restaurants & Bars