Get repeat customers and increase your sales with the built in Online Ordering System and Shopping Cart
We are living in a digital age, where ordering online isn't a nice-to-have feature, it's a serious expectation your customers will have. The Online ordering system we created exclusively for restaurants comes built into MyRestaurantTheme, and integrates perfectly with your website.
We designed the ordering system keeping food industry best practices and simple common sense in mind, creating a very efficient Online ordering system:
Streamlined checkout process: Keeping the customer checkout process as short as possible is imperative to having an effective online ordering system, since too many steps would increase "shopping cart abandonment".
Accept credit/debit cards: Want to accept cards online? You can do so instantly with any of the 10 supported payment gateways: 2Checkout, Authorize.net AIM Checkout, eWay Shared Payments, Google Checkout, iDEAL, Manual Payments, Moneybookers, PayPal Payflow Pro, PayPal Express Checkout, Stripe.
Upsell integration: Averagely 25-35% increase in online ordering volume can be achieved by recommending a few extra items during the online checkout process. The upsell module comes built into MyRestaurantTheme as well.
Menu card integration: The ordering system is integrated with the Menu card system, so you won't have to do any extra content uploads. Simply specify which foods you want to make available for ordering online, and MyRestaurantTheme takes care of the rest.
Mobile ordering: People on the go prefer ordering through their iPhone or other popular smart-phones, and they'll be able to do just that on the mobile version of your restaurant's site.
No need for other online ordering software or 3rd party solutions
Many restaurant's use 3rd party solutions to manage their online ordering systems, you might be doing the same right now. 3rd party online ordering software works, but has huge disadvantages:
Customers get taken off of your site…
Software company gets a cut of each order on top of a monthly fee…
Inefficient checkout process…
MyRestaurantTheme comes integrated with a versatile, feature packed Online ordering system for your restaurant, meaning you won't need to use other ordering systems any more.
Thanks to the large number of integrated payment gateways, you'll be able to accept bank cards on your site regardless of the location of your restaurant. Beside manual cash payments, MyRestaurantTheme currently supports the following payment gateways:
Some of the payment gateways require an SSL connection (Authorize.net, PayPal PayFlow Pro).
Features of MyRestaurantTheme's Ordering system
Here are the most important Ordering system features you'll be able to control through your website's administration dashboard:
Create upsell categories to be shown during checkout
Allow user to ask for home delivery or personal pickup, as well as payment on delivery/pickup, or via bank card
Let customers schedule an order in advance
Provide an online order tracking URL to each customer
Manage minimum order value, shipping cost, free shipping if order exceeds set amount
Specify your business hours as well as delivery hours
Customize text of checkout screens
Setup thank you page and thank you email text
Specify your currency
Intuitive running orders administration page
As you can see, we work hard to make MyRestaurantTheme is truly an all-in-one solution to creating a feature packed restaurant site. You will be able to set everything up quickly through your website's intuitive administration panel, and start accepting online orders immediately.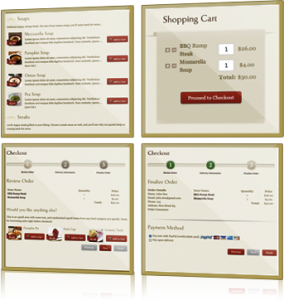 Did you know…
After the burger chain, Five Guys Burgers and Fries implemented online ordering, their online orders averaged 25% more sales than phone orders.
Online ordering accounts for 25% of the revenue of the Papa John's pizzeria chain.
Food for thought…